The Spectacular Ford GT
January 23 2015, Justin Barker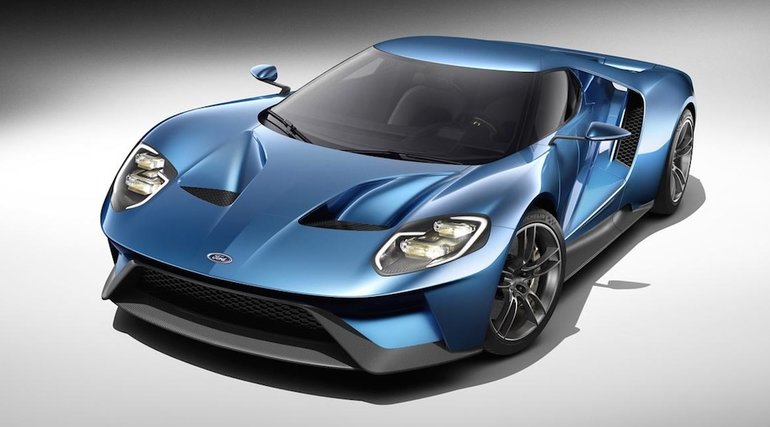 Ford absolutely stole the spotlight at this year's North American International Auto Show in Detroit by unveiling the spectacular Ford GT.
The new GT, slated to be Ford's next supercar, is visually stunning and as fast as it looks. The last GT left the scene 10 years ago, and this new GT is set to take over against established Italian and German rivals.
That said, the new GT will be a lot more powerful than the previous generation, even if its engine does not seem like it on paper. Indeed, while the previous GT was powered by a bulging V8, the new GT gets a 3.5L EcoBoost V6 to power the rear wheels. Power is stated to be 600 horsepower thanks to the EcoBoost's turbo, and we have no trouble believing the new GT would be able to run circles around the previous model. A seven-speed dual-clutch transmission will take care of distributing the power.
In addition, the 2016 Ford GT is proud to stand alongside the previous iterations of the GT. As a matter of fact, it was designed to commemorate the 50 years of the first victory of the iconic GT 40 at LeMans. We will remember that Henry Ford chose to build the GT 40 after he was denied the right to buy Ferrari. In order to get back at the Italian manufacturer, he built a car that could take it on and beat it at LeMans.
Unveiled 10 years after the 2004 Ford GT, the new model is part of a new offensive by the American manufacturer, which plans to offer no less than 12 high-performance models before 2020. The Ford GT will therefore join the likes of the Ford Mustang Shelby GT350 and other models to come, all of which designed to add a little spice to the Ford lineup.
We do not know a lot about the new Ford GT aside from its power, but we do know that it will be used to showcase all of the Ford's technological competence. That means that very lightweight materials are expected to be used in the construction of the GT, as well as the latest and best technology when it comes to braking, steering, and track behavior.
When you see the car in person, the first thing that stands out is how wide and low it is. This is a true supercar, the likes of which are no longer seen today. It reminds us of the Saleen S7 and the first Ferrari F40. In the back, the exhaust tips are positioned very high and breathe straight out.
There were 4,500 2004 Ford GT models built when that car was launched a decade ago. The new Ford GT will be much more exclusive and less than a 1,000 of them will probably be built.