Ford unveils all-new 2018 EcoSport subcompact SUV in L.A.
November 30 2016,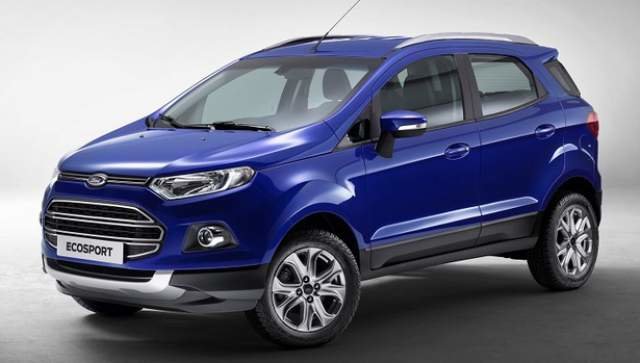 When Ford unveiled its all-new subcompact SUV earlier this month in Los Angeles, it immediately became one of the stars of the show.
When Ford unveiled its all-new subcompact SUV earlier this month in Los Angeles, it immediately became one of the stars of the show. The 2018 Ford EcoSport will become the entry-level SUV in Ford's lineup when it hits the market, positioning itself below the best-selling Escape in a very popular segment that will only grow in the future. And because the EcoSport is already sold in other global markets, it should hit the ground running in North America.
Agility and versatility merged together in the 2018 Ford EcoSport
We all want a lot of interior space in our vehicles, but we don't want to have to live with the lower fuel economy, wider turning radius and impossible-to-park exterior dimensions of most sport utility vehicles. City dwellers also want to avoid the poor visibility associated with many SUV's but they also want to benefit from the added safety and confidence of a higher seating position. That's why subcompact SUVs have become so popular in the last year.
They offer the versatility and characteristics of an SUV, combined with the agility and comfort of a car. That's also what is promised with the 2018 Ford EcoSport. Although the model has not yet arrived on the market, it already is destined to be quite popular with buyers in Nova Scotia.
"By the time the North American version of the EcoSport hits showrooms in early 2018, most of Ford's competition will be well into their product life cycles. But analysts and executives expect that continued strong demand -- along with Ford's success with larger SUVs -- will allow the EcoSport to generate healthy sales numbers", says respected American publication Automotive News.
Two EcoBoost engines for the new Ford EcoSport
Because the EcoSport won't launch in the coming months, we don't have that much information on Ford's upcoming entry-level SUV. We do know however that it will come standard with Ford's 1.0-liter three-cylinder engine and front-wheel drive. A 2.0-liter four-cylinder EcoBoost engine will be optional, as will all-wheel drive. A six-speed automatic transmission will be standard with both engines.
Inside, buyers will be able to choose among a host of connectivity features, including 4-, 6- or 8-inch touchscreens. Powerful sound systems, an array of interior colors and plenty of other connectivity technologies mean that the EcoSport should appeal to younger buyers.
Ford already offers one of the largest SUV lineups in the industry with the Explorer, Edge, Escape, Expedition and Flex. With the arrival of the all-new Ford EcoSport, Ford will have an SUV for everyone and every need.
To learn more about Ford's lineup of sport utility vehicles, contact us today a Bruce Ford!