2017 Ford Fusion: The right amount of updates
June 27 2016,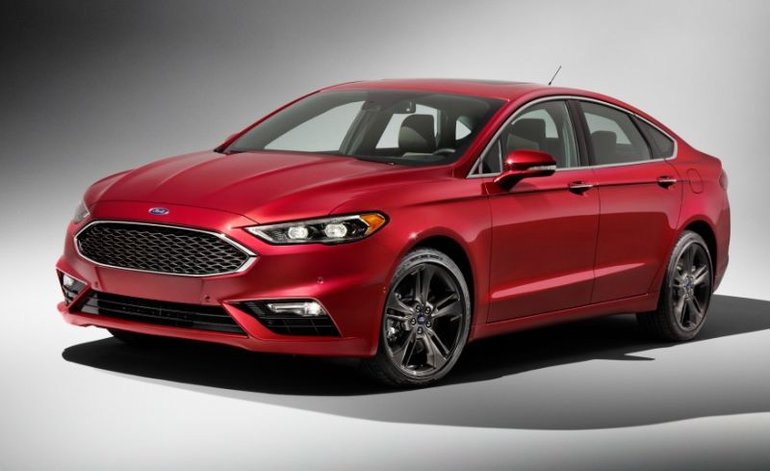 You might have thought the Ford Fusion was in need of any great amount of updates, being as well-rounded and sophisticated as it already was, however; the updates made to the revamped 2017 Ford Fusion are just what was needed to bring it squarely into the modern playing field of vehicles on sale today in the market.
Upon first glance, you'll note that the 2017 Ford Fusion now sports a newly designed front grille that not only features a distinctive and elegant look, but also available new LED headlights. The overall look of the front end of the 2017 Ford Fusion is one of distinction, it looks all grown up and very much a head-turner in all the right ways. And if the new front end look wasn't enough to help you stand out from the pack, then Ford's got a host of additional wheels to choose from for the 2017 Fusion that range from 16" to 19" rims with a total of seven different styles to choose from.
It doesn't stop on the outside though. Step inside the 2017 Ford Fusion and the first thing you'll notice is the traditional gear lever has been removed and in its place is an all-new rotary knob. This all-new design not only frees up cabin space, but makes for easy gear selection and manipulation.
Ford's also offering up an all-new Platinum interior design that features unique paint and platinum grille as well as 19" wheels on the exterior, and features such as leather-wrapped and padded instrument cluster, steering wheel, and leather door trim; as well as cooled and heated front seats.
Then, there's the all-new V6 Sport series of the 2017 Ford Fusion. This bad boy features a 2.7L V6 EcoBoost engine that produces 325 horsepower and 350 lb-ft of torque along with standard AWD as well as continuously controlled damping. The engine's not the only selling point about the V6 Sport edition, there's also a unqiue grille along with sporty quad exhausts, as well as 19" premium Painted Tarnish Dark Wheels.
The 2017 Ford Fusion lineup has three EcoBoost engines to choose from: a 1.5L, the 2.0L and the all-new 2.7L V6 EcoBoost in the Sport V6 edition.
In all, the updated and revamped 2017 Ford Fusion offers everything you didn't know was missing or in need of updating, and in a package that's oh-so pleasing. To find out more about what the 2017 Fusion has on offer, head down to your local Bruce Ford dealer today to speak to one of our experts, and don't forget to book a test drive.