2017 Ford F-150 Raptor: Bigger, bolder, and more badass
January 25 2016,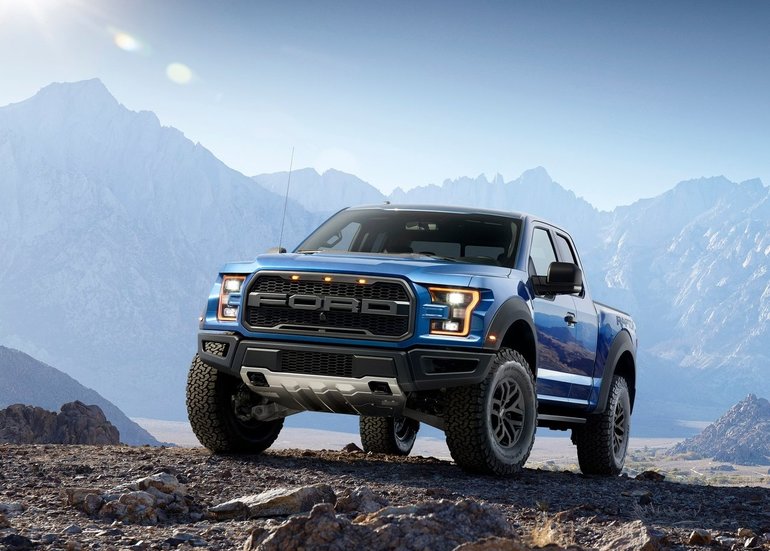 Truly, there's nothing this truck can't do
Truly, there's nothing the 2017 Ford Raptor can't do
Just when you thought Ford's most badass pickup couldn't get any badder, they've gone and made it bigger and therefore better. Unveiled at the this year's North American International Auto Show in Detroit, the Blue Oval's fantastically fierce truck just got a whole lot cooler.
For 2017, Ford's tacked on 2 more doors to the Raptor, offering up a SuperCrew cab version which automatically makes the Raptor that much more family friendly. But fear not, that does not mean the beast has been tamed in any other way. While it might be about 145 inches longer, it's still just as ferocious, and actually lighter. With all the aluminum bits and pieces, Ford's managed to shave off about 500lbs according to the American automaker.
Leaner and meaner: That's definitely the new 2017 Ford Raptor's motto
The 2017 Ford Raptor no longer features the V8 we've all come to know and love, but fear not, something better lurks beneath the uber aggressive and manly hood. In its place, the Blue Oval's put a 3.5L EcoBoost V6 engine paired to a 10-speed automatic transmission. This particular setup means you'll get 411 horsepower and 434 lb-ft of torque for all your badass off-road needs.
Ford also outfitted the new 2017 Raptor with six available drive mode off-road systems to choose from. Said modes are Normal, Street, Weather (for rain/snow or ice), Mud and Sand, Baja (for all those high-speed desert runs you'll be doing), and Rock (low-speed rock crawling). This truck has truly been made to take on anything and everything you throw its way – and it will.
The 2017 Ford F-150 Raptor also comes equipped with standard FOX Racing Shox in the front and rear which allow for 11.2" and 12" of suspension travel in the front and back respectively. It also features an all-new AWD torque-on-demand transfer case which ups it's off-road, across any terrain prowess.
To find out more about the brand new and still badass 2017 Ford F-150 Raptor pickup, head down to your local Bruce Ford dealer to speak to one of our experts. And don't forget to book a test drive, too.