2016 Ford Fiesta: Small but Mighty
November 23 2015,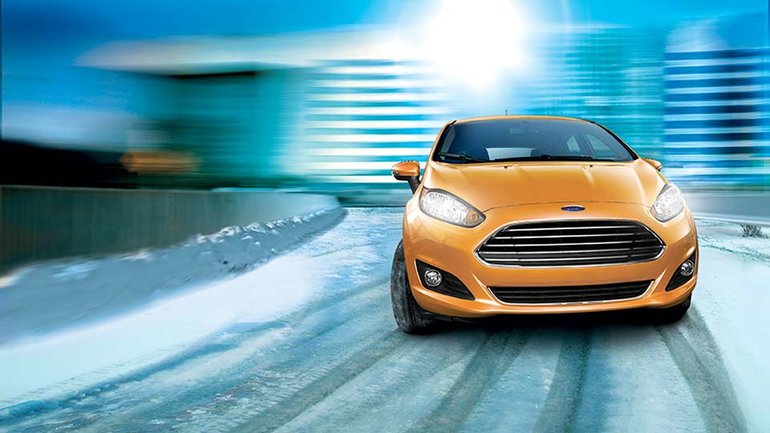 Underneath that modern, edgy, youthful exterior is a car ready to tackle the urban world with the best of 'em.
Just because the Ford Fiesta is the smallest vehicle in Ford's lineup, doesn't mean it can't rock one of the largest personalities.
The Ford Fiesta first appeared in 2008, and truthfully hasn't changed much since then. Now at the tail end of its sixth generation it has maintained that spunky curb appeal we've all come to love.
The overall look of the 2016 Ford Fiesta might seem long in the tooth, but it still features some great modern lines and attributes, along with features that keep its appeal relevant in today's market. Of course, the next generation Ford Fiesta is highly anticipated…
Good Things Do Come in Small Packages
Underneath that modern, edgy, youthful exterior is a car ready to tackle the urban world with the best of 'em. How you might ask? Well, with three models available (sedan, hatch and the ramped-up ST), the 2016 Ford Fiesta truly is the ideal city dweller.
First introduced for the 2015MY, the addition of a brand new 1.0L turbocharged EcoBoost version of the Ford Fiesta gave buyers another great reason to consider the hot little hatch as their daily driver. This new engine boasts a 5-speed manual transmission pairing only, and offers up 123 horsepower and 125 lb-ft of torque. Offering up more power over the base engine, but also increased fuel economy (returning numbers in the 6.6L/100km combined range) the 1.0L EcoBoost is a stellar little mill that's sure to please all who choose it.
The 2016 Ford Fiesta sedan/hatch range offers up a 1.6L 4-cylinder that produces 120 horsepower and 112 lb-ft of torque. Transmission choices reside in a 5-speed manual or a 6-speed automatic (not available on the base S model).
Choose Your Fiesta
Then there's the energetic Ford Fiesta ST version that features a 1.6L turbocharged mill that pushes out 197 horses and 202 lb-ft of torque. The ST is only available with a 6-speed manual transmission and is essentially a Ford Fiesta on speed and is an absolutely blast to drive.
Look inside the 2016 Ford Fiesta you'll find seating for five as well as all of Ford's latest technological gadgets including available SYNC and MyFord Touch. There's available bluetooth and satellite radio as well as a USB ports to keep you connected and blasting all the right driving tunes while you cruise.
Don't be fooled by the 2016 Ford Fiesta's diminutive size, it actually offers up plenty of storage and cargo space with a 362.5-litre trunk in the sedan and a 423 litres of cargo space with the hatch. Small? We think not.
Overall, the 2016 Ford Fiesta is a blast to drive and still looks great. Make sure you head down to Bruce Ford today to find out more about the hot little hatch, and don't forget to book a test drive, too.