2016 Ford F-150: No.1 for a Reason
December 23 2015,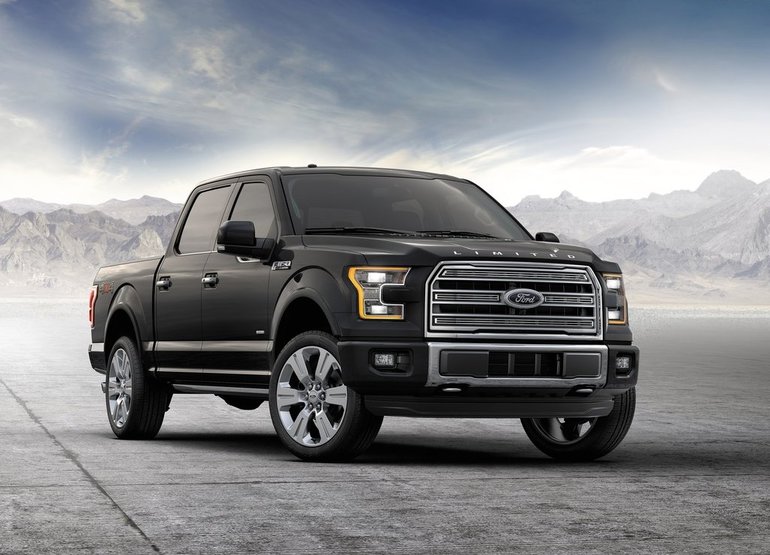 The brand new 2016 Ford F-150 is a fantastic truck for everyday use and for the job site.
As the saying goes, if it ain't broke don't fix it, but what if you're not fixing, but instead enhancing and making something better? Well, that seems to be the method Ford took in revamping and redesigning the Ford F-150 pickup lineup. Their latest generation of the much-loved F-150 is proof that Ford really has done its homework and knows how to enhance perfection in the pickup world.
Ready for Hard Work
This latest generation of F-150 pickup was redesigned internally and now features aluminum, high-strength steel and other lightweight materials that drop the truck's weight by approximately 700lbs. That's a huge deal in the truck world, and one of the main reasons why the 2016 Ford F-150 features a bigger payload (2,000lbs), which means you can take about 1,000lbs of stuff in the bed, plus cram all your crew worker buddies in the cabin, and add a few hundred extra pounds of gear on top of that, too. It's just what someone who needs the F-150 to be a work truck needs to hear, and it's sure to impress.
The 2016 Ford F-150 also features a new turbocharged 2.7L V6 EcoBoost mill that produces 325 horsepower and 375 lb-ft of torque and is mated to a 6-speed automatic. Carrying over from the previous generation are a 3.5L V6, turbocharged 3.5L V6 EcoBoost, and a 5.0L V8.
With the option of 4x2 or 4x4 chassis set-up, the 2016 Ford F-150 truly is versatile. Add to that the fact that you can accessorize and customize to your heart's content, the possibilities seem endless. Your 2016 Ford F-150 can be as unique as you are, and can be made to fit your needs precisely.
The Perfect Pick-Up for All Workers
The allure of a pickup is its capabilities as a worker: The 2016 F-150 is more than capable. Spec'd appropriately, the Ford F-150 pickup can tow up to 12,200lbs of stuff, and it can handle off-road and sticky on-road situations, too. This is truly a versatile vehicle.
On top of that, the 2016 Ford F-150 offers up modern, hi-tech amenities such as MyFordTouch, Bluetooth, satellite radio, and a cabin that's quiet, comfortable and serene even at higher speeds. There's also the added bonus of choosing bed length and cabin size, along with a host of exterior colours, and interior material choices and colours.
The brand new 2016 Ford F-150 is a fantastic truck for everyday use and for the job site. The F-150 has been the bestselling truck in North America for five decades, and there's a damn good reason for that. The Blue Oval knows what it's doing when it comes to truck, and this latest generation of the F-150 is proof positive of that.
To find out more about the new 2016 Ford F-150, head down to Bruce Ford to speak to one of our experts, and don't forget to book a test drive, too.