2015 Ford Fusion : still among the best
March 23 2015, Justin Barker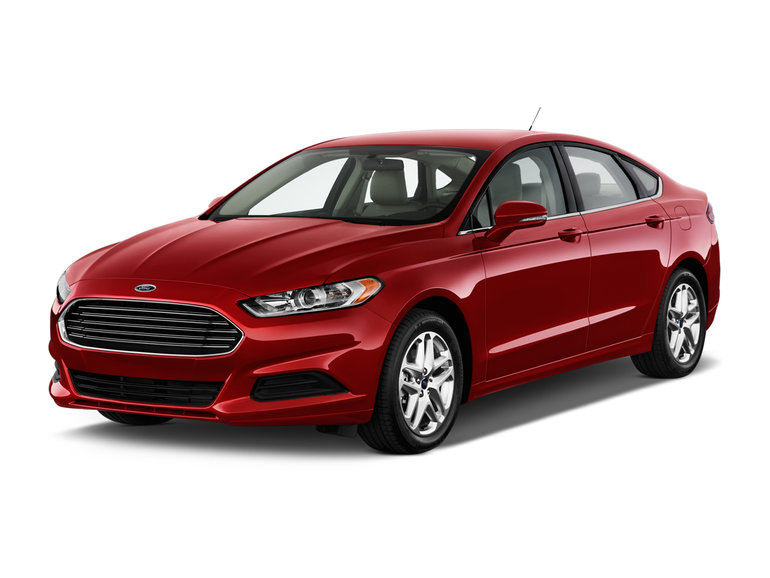 "The Ford Fusion remains to this day one of the most popular and well-liked vehicles in the very busy midsize sedan segment."
The Ford Fusion remains to this day one of the most popular and well-liked vehicles in the very busy midsize sedan segment. This segment is chalk full of quality vehicles, let's be honest, so to stand out in a crowd, a manufacturer must make sure they offer a vehicle that is reliable, safe, spacious, and that also happens to offer a lot of choices. That's what Ford does with the 2015 Ford Fusion. If you are looking for a midsize sedan, give the new 2015 Fusion a few rounds around the block, you will not be disappointed.
For starters, Ford's midsize sedan is simply beautiful. Its front-end reminds everyone of the Aston Martin lineup of vehicles with its stretched, distinctively-styled grill, aggressively-slanted hood, sleek headlights and wide stance. When you look at the vehicle from the side, you realize that it has an almost coupe look to it while from the back, it looks refined and luxurious. Inside, the refinement continues with the Fusion's high-quality materials, comfortable seats, beautiful and modern center console, and excellent craftsmanship.
Those who have the chance to drive the new 2015 Ford Fusion, especially members of the media, absolutely love the Fusion. Its handling is sharp, its cabin is quiet, there is plenty of performance from the available engines (we will get to those in a second), its ride is soft and compliant yet poised and in control, and overall it just seems to achieve a perfect balance of sportiness and comfort. One mention that seems to come back often when it comes to the new Fusion is that it doesn't seem to drive like it looks in the sense that it handles like a compact yet offers the interior space of a true midsize sedan. We are sure most buyers in the segment will take it.
We mentioned previously that there were a lot of engines available in the 2015 Ford Fusion. The base engine is a 2.5-liter Duratec unit that offers 175 horsepower and 175 lb-ft of torque. For less than $ 22,000, this engine offers plenty of power for not a lot of money. On the other hand, Ford is known of the efficiency of its EcoBoost engine lineup, and there are two EcoBoost engines in the Fusion family. The 1.5-liter four-cylinder EcoBoost offers 181 hp and 185 lb-ft of torque, all the while returning an average fuel economy rating of 8.4 liters per 100 kilometers. The more-powerful 2.0-liter four-cylinder EcoBoost engine has 240 hp and 270 lb-ft of torque, and is capable of matching up with other V6 engines in this segment without penalizing the driver when it comes to fuel economy. And yes, for buyers who want fuel economy above everything else, there is a hybrid and even a plug-in hybrid version of the 2015 Ford Fusion.
If you would like to learn more about the 2015 Ford Fusion, contact us today at Bruce Ford.