2017 Ford Mustang GT350R: And You Thought the 350 Was Crazy…
20/07/16
2017 Ford Mustang GT350R: And You Thought the 350 Was Crazy…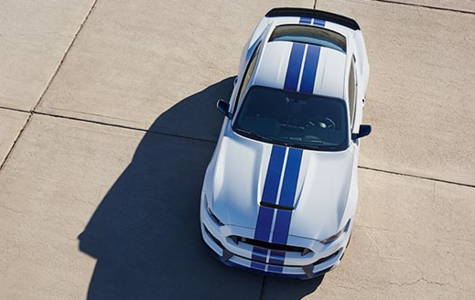 The Ford Mustang is an instantly recognizable model on the road. Everyone knows it. Everyone has a Mustang story to tell from when they grew up. They are iconic vehicles, and they continue to be just that, despite the decades that have passed since the first pony car appeared.
So, how do you improve on something that's already so well-loved and received? Well, you offer a track-ready package on the most powerful version of said vehicle, of course.
Be Ready to Be Impress
And that's just what Ford's done. Already, the Mustang GT 350 was balls out performance-driven enough, but the GT 350 R kina blows its stable-mate out of the water in terms of performance. How does it do that with the same engine you might ask? Well, I'll get to that in a second …
First: about that engine. The 2017 Ford Mustang GT 350 R is equipped with a 5.2L Flat Plane Crank V8 mill that produces a mouthwatering 526 horsepower and 429 lb-ft of torque. And while this is the same engine found in the GT 350, performance numbers are improved in the GT 350 R thanks to weight saving. With the R Package, you get your rear seat removed along with the AC, audio system, SYNC and USB ports. This is a naked track machine, essentially.
The 2017 Ford Mustang GT 350 R only comes with one available transmission: a TREMEC 6-speed manual. And power is sent to the rear wheels.
Feel the Rush with the 2016 Ford Mustang GT350R
And that exterior design: The look and feel of the Mustang GT 350 R is just savage. From nose to tail, this fastback means serious business on the road. It is so intimidating to see head-on thanks to an aggressive front lip spoiler and Shelby snake symbol in the front grille. For the R specifically, you'll also get 19" Ebony Black-painted Carbon Fibre wheels as well as track-read rubber to go on those wheels.
Inside, the 2017 Ford Mustang GT 350 R features RECARO racing seats and unique Shelby gauge cluster and paneling. It's all very functional more than comfortable, but that's more than OK for a car as badass on the track as the GT 350 R.
To find out more about the absolutely mental 2017 Ford Mustang GT 350 R, head down to your local Bruce Ford to speak to one of our experts about everything this two-seater will surely have to offer. And you'll definitely not want to miss a test drive in this one!
YOU MAY ALSO BE INTERESTED IN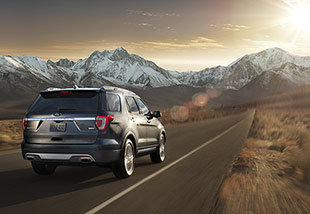 NEWS
17/08/15
The 2016 Ford Explorer is made for just that: exploring.
NEWS
23/03/15
"The Ford Fusion remains to this day one of the most popular and well-liked vehicles in the very busy midsize sedan segment."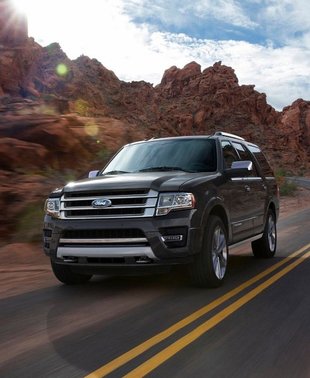 NEWS
10/07/14
''The new 2015 Ford Expedition offers a more modern style than the previous version, with a more powerful and fuel-efficient engine, and a refreshed and roomy interior that will surely please...
View All News & Videos