2017 Ford F-150: number one for a lot of reasons
30/12/16
2017 Ford F-150: number one for a lot of reasons
The Ford F-150 is Canada's best-selling vehicle. That alone is a testament to the quality of Ford's prized pickup truck, but that doesn't mean that the American automaker is sitting back on its laurels and not continually improving the F-150.
When it redesigned the F-Series recently, Ford made a bold move by increasing the use of aluminum in order to make its pickup safer, more capable, and more efficient. That move was seen as risky by many, but F-150 sales have not slowed down, and Ford's pickup is better than ever.
As many versions as there are 2017 Ford F-150 owners
We could spend all day talking about the various versions of the Ford F-150. There are a lot of them starting with the base XL model offered starting at less than $30,000. There are four engines in total found across the 2017 Ford F-150 range.
There is the 2.7-liter EcoBoost that delivers 325 horsepower and 375 lb-ft of torque and which offers up to 8,500 lbs of towing capacity and 2,210 lbs of payload. There is a 5.0-liter V8 engine that offers 385 horsepower and 387 lb-ft of torque along with twin independent variable cam timing which optimizes performance across the entire torque range while also improving fuel economy. Next is an available 3.5-liter Ecoboost engine that delivers 375 horsepower and 470 lb-ft of torque. The base 3.5-liter V6 offers 282 horsepower and 253 lb-ft of torque.
Fuel-efficiency is a priority in the 2017 Ford F-150
Fuel economy ranges from 12.1 liters per 100 kilometers on average with the 2.7-liter EcoBoost to 14.1 liters per 100 kilometers in the 5.0-liter V8. Regardless of which engine you choose in the 2017 Ford F-150 range, however, fuel economy is impressive given the capabilities of Ford's truck.
Towing capacity varies from 2,268 kg to 5,534 kg depending on the version and equipment. There are also numerous cab sizes which include Regular Cab, Super Cab and SuperCrew; and plenty of trims including Lariat, King Rang, Raptor, Platinum and Limited.
The 2017 Ford F-150 offers all the capability and ruggedness you could ever need in a pickup along with impressive fuel economy and a comfortable and refined cabin that makes driving the F-150 on the highway or around town a rewarding experience.
To learn more about the 2017 Ford F-150, contact us today at Bruce Ford!
YOU MAY ALSO BE INTERESTED IN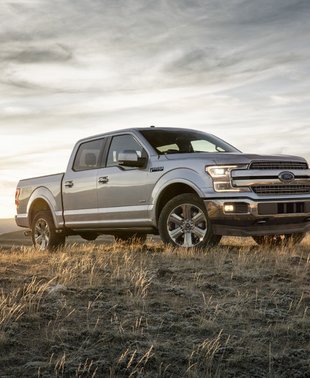 NEWS
31/08/17
The 2018 Ford F-150 is here, and it is better than ever in every single way. Yes, we know that's a bold statement, but the fact is the new F-150 has been improved in every department starting with... [...]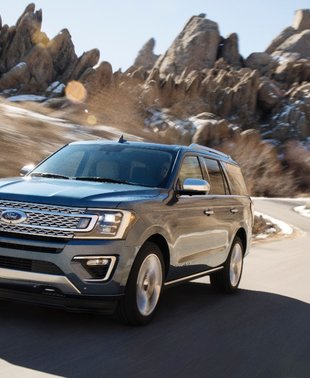 NEWS
30/06/17
The 2018 Ford Expedition has been completely redesigned this year, and regardless of where you look, you notice that it has been improved and is now better than ever. It has more safety technology,... [...]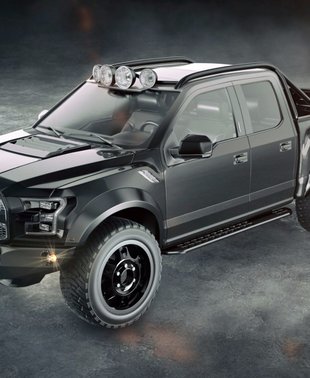 NEWS
17/10/16
The all-new 2017 Ford F-150 Raptor is certainly a sight to behold with its massive front-end, huge wheels, rugged lines and powerful engine. But for some, that's not enough.
View All News & Videos