Welcome to Bruce Ford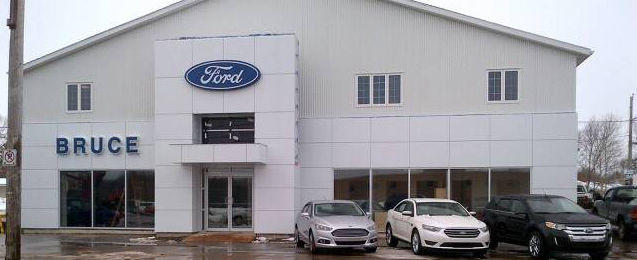 Ford Dealer in Middleton, NS
At Bruce Ford, our qualified personal philosophy is to transform your dealership experience into a special event. Whether you are purchasing a new Ford vehicle, looking for the best pre-owned vehicle in the Maritimes, or for mechanical maintenance, Bruce Ford's team is at your service.
If you're looking for a pre-owned Ford, we have a huge inventory that will meet any budget. You can also browse our frequently updated inventory of Ford certified pre-owned vehicles. You'll find the best quality at the best price. Each unit is inspected by a team of qualified professional technicians so you can be sure that a Ford certified-used vehicle meets high standards of quality. You can also search our Bruce MVI Only Vehicles or our As-Traded used-vehicle inventory to find the pre-owned vehicle you are looking for !
Bruce Ford is part of the Bruce Auto Group. Keep in mind that it's free delivery for your new vehicle across the Maritimes.
About us
NEWS

10/07/14

''The new 2015 Ford Expedition offers a more modern style than the previous version, with a more powerful and fuel-efficient engine, and a refreshed and roomy interior that will surely please...

NEWS

03/06/14

Ford's F-Series has been Canada's best selling line of trucks for nearly a half-decade.

NEWS

14/05/14

Ford has managed to create an interesting little hatchback. The 2014 Ford Fiesta 5-door is a stylish, fun-to-drive, and fuel efficient vehicle.

NEWS

14/04/14

Since being fully redesigned, the 2014 Ford Focus continues to maintain an attractive image. Its stylish appearance mixed with an aggressive attitude is sure to please the crowds.

NEWS

27/03/14

''The Ford Escape has been a staple of the compact SUV segment for many years, and last year, it was redesigned in order to make sure it kept its position at the top of its class. ''

TRICK

27/03/14

You do not know about Bruce Ford's Market Value Pricing? This is a very simple principle, but it saves you time and money!

NEWS

21/11/13

The most powerful model of the Ford Focus series is now available. The 2014 Ford Focus ST has a more aggressive styling and a more powerful engine.

NEWS

21/11/13

The Ford Escape continues to offer consumers what they want: style, efficiency and performance. In addition, through a multitude of options you will find the models that suits you.

VIDEO

21/11/13

The Number one truck in Canada for 47 years in a row! The Ford F-Series offers you a legacy of dependability.
View all News & Videos
Have you ever thought about a career in the automotive industry?
Are you a smart, enthusiastic, assertive, motivated individual; interested in exceptional compensation opportunities?
Bruce Auto Group, one of Atlantic Canada's Top 101 Companies currently have openings for:

View our Careers section